2016 Festival: Violetta and her Sisters
August 13–28
The Rose Nagelberg Theater
155 East 25th Street
Our "Violetta & Her Sisters" theme encompasses numerous stories of the French demimonde, including grisettes and courtesans,  and the men who loved (and tried to control) them. The title of our festival comes (with kind permission from publisher Faber & Faber) from a 1994 collection of poetry and essays edited by Nicholas John.
---
August 13, 14m, 20m, 21m, 25, 27
Kyle Pfortmiller, Stage Director
John Spencer IV, Conductor and Music Director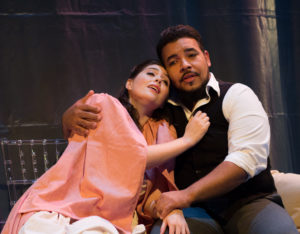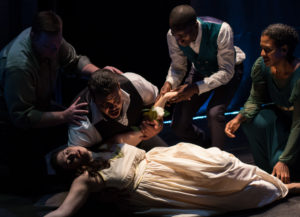 August 20, 22, 24, 26, 28m
Victoria Crutchfield, Stage Director
Chris Fecteau, Conductor and Music Director

August 19, 23
Brittany Goodwin and Joule Voelz, Stage Director
David Štech, Conductor and Music Director

Staged presentation with piano of Puccini's La Rondine, Act I and Leoncavallo's La Bohème, Act I (excerpt) and IV (complete), featuring members of the ensemble and covers from our Manon and La traviata productions.
La bohème (Leoncavallo) — Show Cast List

August 27m
Song settings of the great 19th century French poet Baudelaire by Debussy, Duparc, Fauré, Vierne, d'Indy, Charles Loeffler, Judith Lang Zaimont & Ellen Mandel, plus piano works of Hahn and Godard.
---
Creative Team & Production Staff
Mary Ellen Stebbins
, Lighting Designer
Karen Rich, Production Coordinator
Kasey Burgess
, Production Manager